The Magic of Graphic Design Postcards
The graphic design postcards is a miniature masterpiece that combines creativity, aesthetics, messaging, and creativity in one small canvas. They are pocket-sized pieces of artwork that transcend the traditional means of communicating by combining typography and imagery. If you are looking for a way to express your creativity, then graphic design postcards can be a powerful tool. Here, we will dive into the world of graphic design postcards. They are a great way to express yourself, whether you're a design enthusiast, entrepreneur, or individual looking to make a statement.
The graphic design of postcards is a combination of communication and art. Through visual elements, they convey emotions and ideas. It's more than just a design, graphic design postcards have an artistic quality that connects people.
1. Visual storytelling: Graphic design cards tell stories with images, colors, and typography. This catches the eye and sparks curiosity.
2. A personal touch: An elegantly designed postcard creates a connection that feels both intimate and personalized.
3. Brand identity: Graphic postcards for businesses are an extension to brand identities, and leave a lasting impression with customers.
Unlocking Creativity – A Step-by-Step Guide
Designing compelling graphic design postcards is a blend of creativity, storytelling, and design principles. A step-by-step guide for creating captivating graphic-design postcards is provided below:
Step 1: Message Definition
Clarify the message that you would like to communicate through your card. The heart of any design is your message.
Step 2: Design Your Concept
Visualize the message you want to convey. Is it a graphic composition or an appealing image?
Step 3: Choose Colors Wisely
Colors can be used to create a mood or a message. Colors can set the mood and evoke certain emotions.
Step 4: Typeface Matters
Fonts should match your design theme. Your message should be enhanced by typography, and not distracted.
Step 5. Composition and Layout
Arrange visual elements, typography, or other design components to create a balanced layout. Visual hierarchy directs the viewer's eye throughout the design.
Step 6: Image Enhancement
Integrate images that reflect your message. Images should enhance the narrative, regardless of whether they are a picture, graphic, or illustration.
Step 7: Keeping Brand Consistency
If you are designing for a specific brand, be sure to align your postcard with its visual identity. This includes maintaining the consistency of colors and symbols.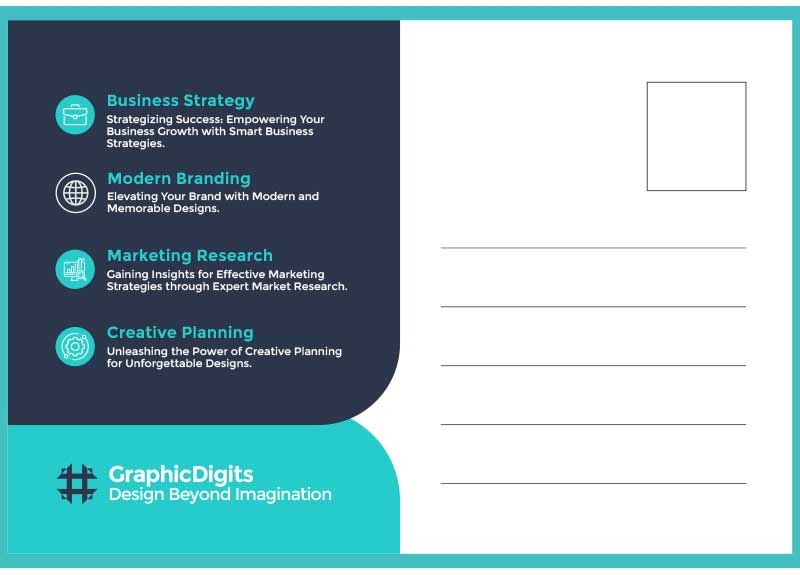 Graphic Design Postcards: Create Visual Marvels with Design Tips
Simplicity speaks volumes: Go for an uncluttered and clean design. The simplicity of your design will enhance the impact.
Visual Hierarchy Arrange your elements to guide the viewer's eye.
Use Whitespace. Whitespace doesn't waste space. Instead, it improves readability by bringing focus to important elements.
Use Contrast: Contrasts in fonts, colors, and images can create visual interest. They also highlight important elements.
Graphic design postcards are a great way to turn your thoughts into visual wonders that capture interest and inspire emotions.
Graphic design postcards don't simply represent a sheet of paper. Instead, they are a way to showcase your creative side, express yourself, and share messages. These postcards are a harmonious blend of communication and visual aesthetics, which creates a unique experience. You can use graphic design cards to express your feelings, share joy, or promote a company. Be a creative designer, or explore the world of visual design. Allow your creativity to run wild as you create mini masterpieces that will inspire, connect, and make a lasting impression on those who receive them.