Uplift your creativity with Postcard Design Templates
Design is a field where creativity has no limits. When it comes to creating postcards, using a well-designed template can help you turn your ideas into reality. You can use postcard design templates to convey your message in a variety of ways, such as sending congratulatory messages, sharing artwork, or promoting an event. We'll look at the benefits of using postcard templates in this article. You will also learn how to get the best out of them.
The templates for postcard design are the starting point of your journey into creativity. The templates provide you with the elements, structure, and layout you'll need to create a beautiful postcard. They also allow you to add your unique touch. Postcard design templates can be a real game changer.
1. Save time: Templates allow you to avoid the hassle of having to start from scratch. You can quickly customize them.
2. Templates help you to maintain a uniform look and feel for your postcards, which will enhance your brand's identity.
3. Templates are a playground for creativity. Modify, rearrange, and customize elements according to your vision.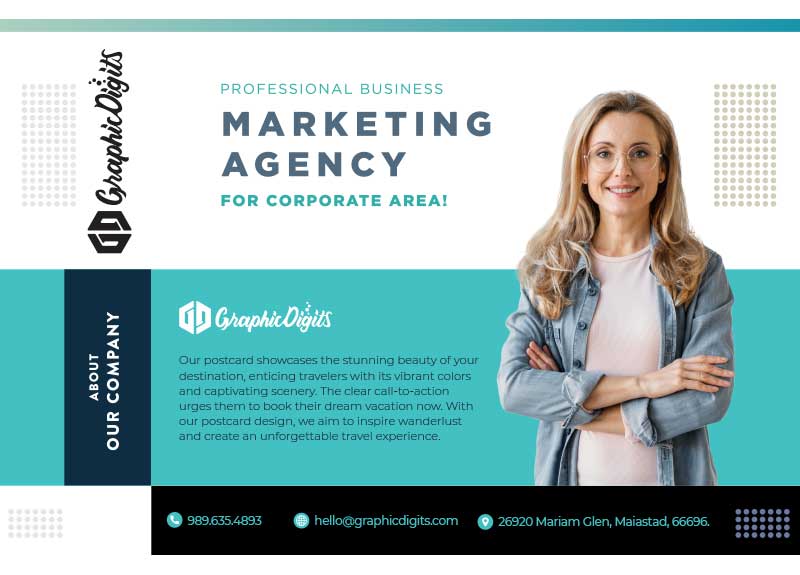 Designing postcards is an easy process, which allows you to express your creativity. This step-by-step tutorial will help you to navigate the template world:
Step 1: Choose your template
Choose a template for your postcard that matches the style and message of your campaign. There are many different themes available, from playful to elegant, so there is a template for any occasion.
Step 2: Personalize Elements
Add your images, graphics, or text to the template. You can show off your creative side by making the template uniquely yours.
Playing with colors
Play around with the color palette of the template to create the right mood or match the brand identity. Customizing colors adds an extra personal touch.
Step 4: Typography Tweaks
You can adjust fonts according to the tone of your message. Use font sizes, styles, and colors to enhance visual hierarchy.
Step 5: Incorporate Extras
Some templates include extras like illustrations, icons, and decorative elements. These elements can be used to improve your design.
Step 6: Refine
Review your design carefully before finalizing it. Verify that the design is consistent, check for typos, and refine it as necessary.
Match Your Message Choose a theme or template that is in line with your message. It should not be a distraction from your content.
Personalize Carefully While templates are a good starting point, do not be afraid to customize them in great detail. Create something unique for your event or brand.
Use High-Resolution Images: Select images with high resolution that are compatible with the layout of your template. Clear visuals elevate your overall design.
Avoid overstuffing your design. Whitespace is essential to a balanced and clean layout.
Maintain Consistency If you are designing several postcards, keep the branding, fonts, and colors consistent.
When you use postcard templates, designing postcards is a snap. This is a great way to present your message in style.
Templates are not just shortcuts they can be catalysts for your creativity. You can use them to incorporate your style and branding into the design. You can turn your designs into postcards with templates that will resonate well with your target audience. You can use postcard templates whether you are a designer who is pursuing a career in design or if you want to learn more about it. Use them as a springboard to inspire your creativity and see your visions come alive in a visually striking way.