Los Angeles Web Design

Redefining Excellence in Digital Design

Los Angeles is a bustling metropolis where creativity and innovation meet. A strong online presence will help you thrive in the digital world. It is your website that acts as an online storefront. This will influence perceptions of the brand and drive customer engagement. Graphic Digits is a Los Angeles-based web design company that offers state-of-the-art solutions to help businesses make their mark on the internet. This article will explore how Los Angeles web design can transform your digital image and take your brand to new levels.
Los Angeles web design

: Unleashing Possibilities
Los Angeles, the entertainment capital of the world is full of opportunities and diversity. It is important to have an engaging website in this environment, as it will help you capture attention and make a lasting impact. Graphic Digits understands the Los Angeles marketplace and customizes our web design to make you stand out and captivate your audience.
Why Choose
Los Angeles Web Design?
Local Knowledge: Having a team that is well-versed in the Los Angeles area allows us to design websites that reflect local trends and tastes.
Customized Solutions: Each business is different. Los Angeles Web Design Services are tailored to your business's brand identity and goals.
Responsive Design: As mobile usage is on the increase, responsive design has become a top priority. Our website will work seamlessly across all platforms, improving the user experience.
User-Centric Approach: Our web designs prioritize user experience. Navigation that is intuitive and interfaces with engaging design encourages exploration and conversions.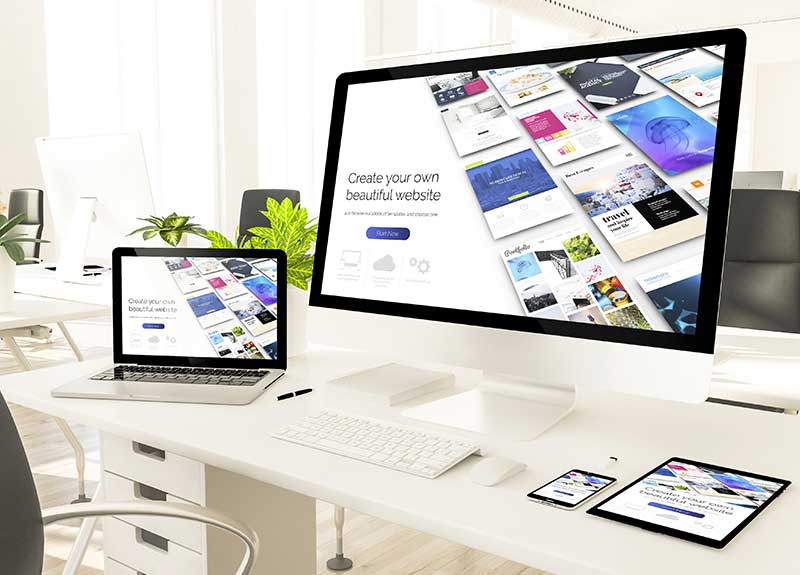 Are you ready to uplift your Los Angeles business? Contact Us Today!
Los Angeles Web Design Unleashes Your Digital Potential!
Los Angeles is a dynamic city, and your brand needs a strong digital presence to thrive. Graphic Digits can help you explore how our expertise in web design will enhance your brand. We can work together to design a website that resonates with the audience of your business and helps it grow.
Los Angeles Web Design

: Enhancing Your Brand

It's more than just a platform. Your website represents your brand and its values. Los Angeles' leading web design company goes beyond the aesthetics to create websites that capture your brand essence.

Strategic Elements: We strategically use design elements like color palettes and typography to strengthen your brand identity.

User Experience: Our websites are designed to captivate users from the first moment of landing. They are guided by intuitive interfaces through an effortless user journey.

Conversion-Centric Design: Each aspect of our design is aimed at driving conversions. We optimize results for everything from strategically placed contact forms to compelling calls to action.

Search Engine Optimization: The most beautiful website in the world is only effective if people can find it. Los Angeles Web Design Services include SEO Optimization to increase your website visibility.
From Vision to Reality:
Our Process
A structured approach is necessary to create an effective website. The Los Angeles website design process includes key phases:
Consultation and Discovery: First, we understand your goals and audience. This information shapes our strategy.
Conception: We brainstorm ideas that are aligned with the brand identity of your company and appeal to your target audience.
Web Design: Once a design concept is in place, our team will begin to develop your site, with an eye on aesthetics as well as functionality.
Refinement and Feedback: Your input is valued and we work closely with you to improve the design. We use your feedback to perfect the details.
Launch and Finalization: We launch and finalize your website after iterations, adjustments, and refinements. This allows us to introduce your brand seamlessly into the digital world.
Why choose
Graphic Digits

Los Angeles for your Graphic Design?

Local connection: We are a Los Angeles-based web design company, and we understand the dynamics of the city, which allows us to build websites that appeal to the local market.

Mastering: Our designers combine creativity and strategy to create visually appealing web designs.

Results-Driven Approach: Our websites are designed to drive results. Each design element is intended to increase user engagement and conversions.

Collaborative Partnership: We believe in collaboration. We value your input and work with you closely throughout the entire design process.
Start your digital transformation here
Los Angeles is a thriving metropolis with many opportunities. A strong online presence will help you succeed. Graphic Digits offers more than just web design. We offer an immersive digital experience to elevate your brand. Call us now to begin your digital transformation. We are the leading Los Angeles web design company.
Contact Graphic Digits Today and Transform your Online Presence. Enhance Your Brand's Visibility.
Graphic Digits web design expertise can elevate your Los Angeles Brand. We are the first stop on your digital transformation journey.
Graphic Digits will be happy to assist you in every way possible. This will be our way of showing you how much we appreciate your professionalism. Graphic Digits has the Exclusive los angeles web design, web design los angeles, web design agency los angeles, los angeles web designers, Graphic Design Portfolio to add style to your worries.
"working with Graphic Digits comes with a lot of ease. Will definitely work with them again and again."
"Delivered quickly and exactly how I requested."
"Prompt service and updates were completed per my request."
"working with Graphic Digits comes with a lot of ease. Will definitely work with them again and again."
"Delivered quickly and exactly how I requested."
"Prompt service and updates were completed per my request."
Let's Talk
We're Ready to Help
Keep your concerns with the best reliable Creative Los Angeles Web Design Agency consultants of the Graphic Digits.